---
This man resembling the local version of 'Rambo' is seen in Colombo arousing the curiosity and suspicion of many.
Armed with an improvised- sophisticated-looking weapon and carrying a water can used by military personnel,
this man is a deserter of the Ceylon Light Infantry. Identified as Corporal E. Lionel he has been declared
Missing in Action after the Pooneryn camp was over-run on November 11, 1993.
He received gun shot injuries on his leg. Lionel hailing from Galle said he wants to take
revenge from the terrorists who shot him. Pic by Gemunu Wellage.
[Sunday Times 20 Sep.1998]
---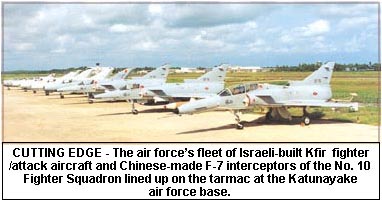 Although both sides have taken very heavy casualties, the military, being bigger, can withstand
such losses better than the Tigers. "The Eelam war has turned into a war of attrition," said a
defence analyst. "Inevitably the military will win because it is bigger." The military has a better
support base with modern hospitals to treat its wounded and rear areas to go back to for rest,
recuperation and re-training. The Tigers are increasingly being confined to a smaller area of jungle.
The LTTE's international network and Tamil diaspora are still no match for the resources of a
sovereign state, even a poor one like Sri Lanka. The Tigers will always be able to penetrate government
defences. But the more they rely on attacks like the bomb attack in the Jaffna municipal council building,
the more they outrage their own people, the more clear it is that they are fighting a doomed struggle.
Their dream of Eelam will remain just that - a dream. [Sunday Observer 20 Sep.1998]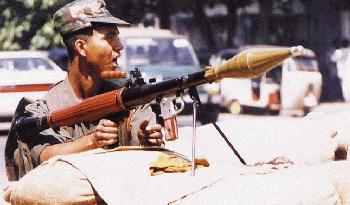 Rocket Propelled Grenade (RPG) launchers are the latest addition at city checkpoints.
Military officials say the RPGs are intended for use against explosive laden vehicles and
prevent them from taking on targets in the city. Pic by Sajeewa Chinthaka
[Sunday Times 22nd February 1998]
---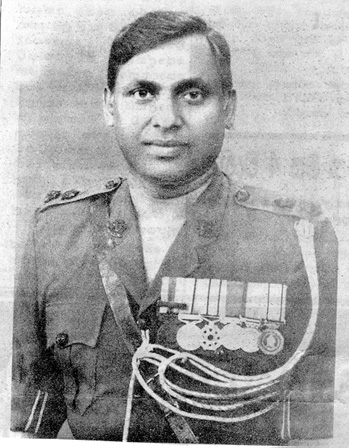 Brigadier Sanath Mendis
A bomb exploded Friday in the city hall of the northern Sri Lankan city of
Jaffna, killing the mayor and 19 others just four months after his predecessor was assassinated.
There was no immediate claim of responsibility, but military officials said the bombing bore the marks
of the Liberation Tigers of Tamil Eelam, rebels fighting for a homeland for minority Tamils.
Besides Mayor Ponnuthurai Sivapalan, the victims included Brig. Susantha
Mendis, who controlled military operations for Jaffna, [AP. September 11, 1998]
---
One young Tamil recruit said she knew how to lay landmines and operate machine guns
and pistols by the age of 13. "The leaders came to our school and said we had to join the
army in order to rescue our country," she said. "After three months I was sent to my
first operation. It was an attack on an army checkpoint and I was equipped with grenades."
[BBC. World; Tuesday, July 28, 1998]
---
Fifteen year old Raja went to the Teaching Hospital in Jaffna, Sri Lanka, complaining of insomnia,
aggressive outbursts and irrational abnormal behaviour in late 1994.
He had joined the LTTE at the age of 11 and underwent extensive training.
He told doctors that after one attack where he lost many friends he was shown a videos of dead women
and children and told that his enemies had done this. Soon afterwards he was involved in attacks on
several Muslim villages near Batticaloa. When recounting one attack, he described how he held a child
by the legs and bashed its head against a wall and how he enjoyed hearing the motherís screaming.
He said they deserved to die. [Children in South Asia; Amnesty International / Index 04/01/98 page 38 ]
---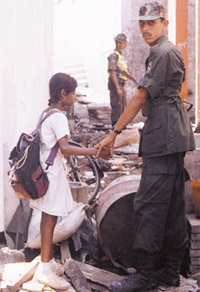 A little schoolgirl, shocked into fear at the site of Thursday's Maradana bomb
blast, being taken care of by a soldier in one of the touching sights at
the scene of the catastrophe.[Sunday Tiumes 08th March 1998]
---
Neither the devastating bus bomb that severely damaged the overhead
bridge at Maradana nor the shattered roof could deter this enterprising
young man from carrying on with his trade. Like the mythical phoenix,
he resumed his work amidst the debris. Pic by Gemunu Wellage [Sunday Tiumes 15th March 1998]
---
An elderly bhikku said: 'And now, the worst has happened to our little
nation. What more is there to happen!' 'It is unthinkable,that there are
men who could resort to such barbaric deeds. If they want war let them
confine those atrocities to battle fields - not places of worship, not in the
Temple of Gods where common people come for spiritual and religious sustenance. [Island 02 02.1998]
'It will be futile now to accuse, blame and place the responsibility of some individuals,
call them terrorists or what you like for this great tragedy. It is time now for a brisk national awakening.
Our leaders must wake up from their deep slumber of self smugness power, glory, and political expediency.
They must awake and begin to think anew. What went wrong and where?'
---